Available in 8 colors.
Includes Meshy Mask, and Meshy cover.
150$L per color.
Skin:
Lumae
~ Fable : Mercury / Bare (White Brow)
Each tone includes 3 skin bases (brows, etc), Makeup layer brows,eyelashes on makeup layer, brow shaper, System layer cleavages, 2 shapes, Slink nail polish, and appliers for SLink Hands, Feet, Physique & Visage, Lola's, Lush, Puffy's, Phat Azz, WowMeh, AMD Bump and Loud Mouth.
demo available
425$L Per tone.
♥
V.I.P. Group color only.
Available in 7 makeup layer variations, and includes Slink hands/feet appliers.
All other appliers sold separately.
Nail Applier:
Dark Passions
- Koffin Nails - Slink Nails HUD - Jungle Gia
Includes toes and fingernail appliers.
99$L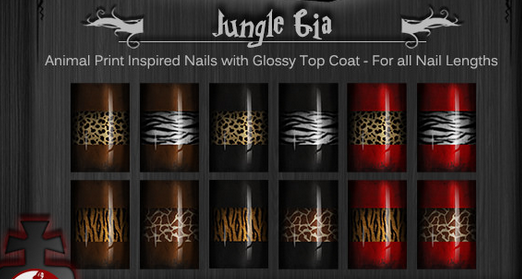 25$L Tuesdays item, still available as of Wednesday night.
Includes 5 static poses.
25$L for the pack.
♥
♥